Makin' Headlines – August 22
Makin' Headlines
After his trip to the Rio Grande Valley last week, Senator John Cornyn travelled throughout Texas again this week, visiting with healthcare heroes, food banks and school leaders in San Angelo, Abilene, Midland, Lubbock, Amarillo, Wichita Falls, Tyler and Waco.
---
Sen. Cornyn visits Waco Family Health Center, saw how CARES Act helps first hand
NBC (Waco)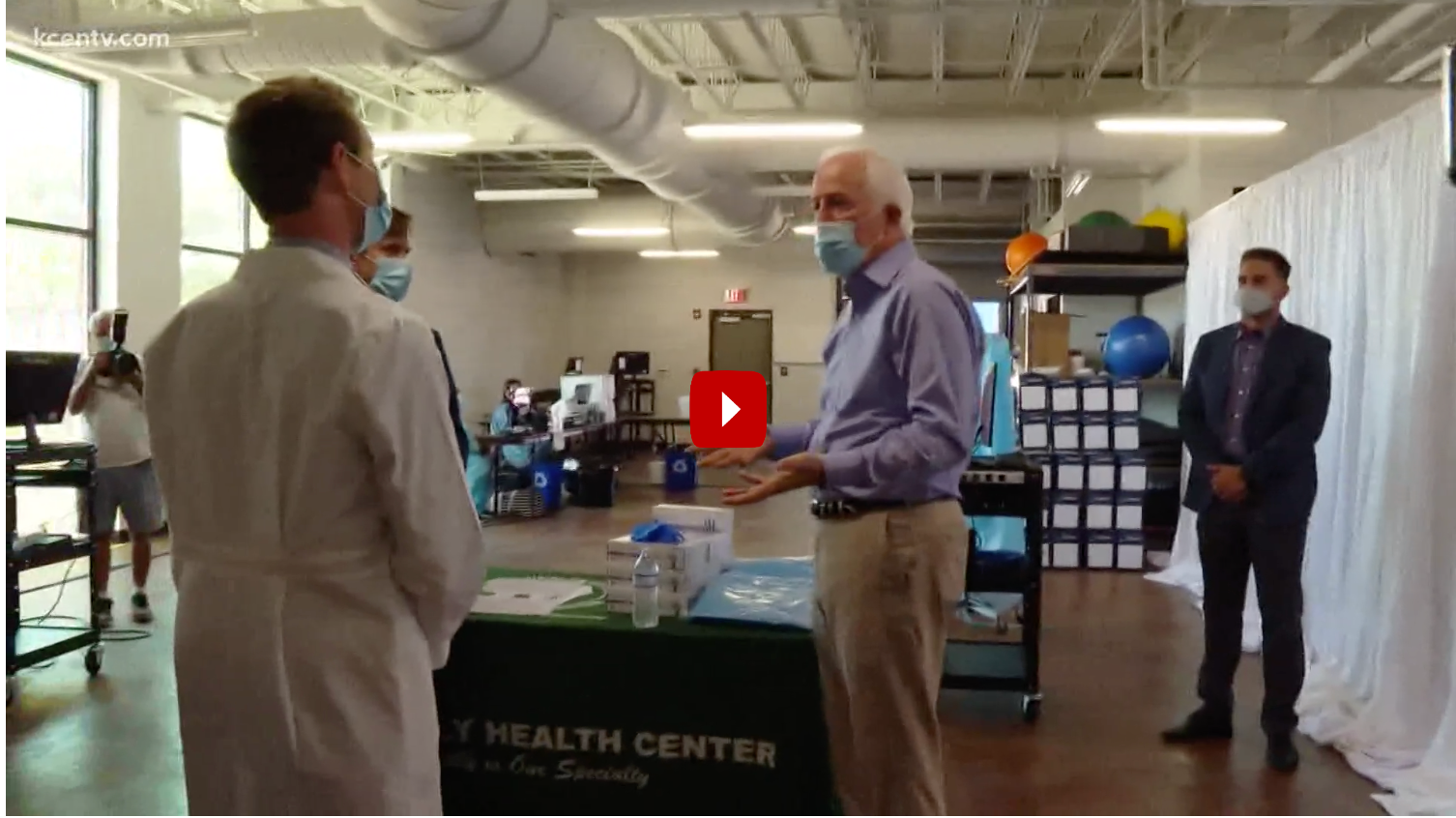 Cornyn: GOP 'best prepared' to rebuild economy after coronavirus
Midland Reporter-Telegram
When asked about polls showing President Donald Trump and Democratic nominee Joe Biden neck-and-neck in Texas, Cornyn attributed the close race to anxiety over the coronavirus and subsequent economic downturn. "The single most important thing that I think about, and perhaps I'm not alone, is who's best prepared to lead the country in rebuilding our economy after we've been through the recession … I don't think it's Mr. Biden," he said.
Cornyn wants to be able to act on next version of CARES
Midland Reporter-Telegram
U.S. Sen. John Cornyn visited the West Texas Food Bank in Midland on Monday for a tour and to pack senior boxes with volunteers from Parkhill, Smith and Cooper. Cornyn had a press conference with WTFB executive director Libby Campbell, Midland Memorial Hospital President and CEO Russell Meyers and Spencer Robnett, at-large city council member, about how the CARES Act, which was passed in March, has helped Midland. The area will receive $61 million in funding, some of which has already been dedicated.
Cornyn tours TTUHSC for COVID-19 response update
Lubbock Avalanche-Journal
"I've long admired the great work that's being done here at Texas Tech, across so many disciplines and specialties," Cornyn said. "Getting the chance to come see it here today and what you all are doing — you helping lead the nation's fight against the coronavirus is pretty inspiring. It offers a lot of promise for what we can build on for delivering access to health care more efficiently and cost-effectively."
WATCH: Senator Cornyn at Texas Tech talking about the battle against COVID
Everything Lubbock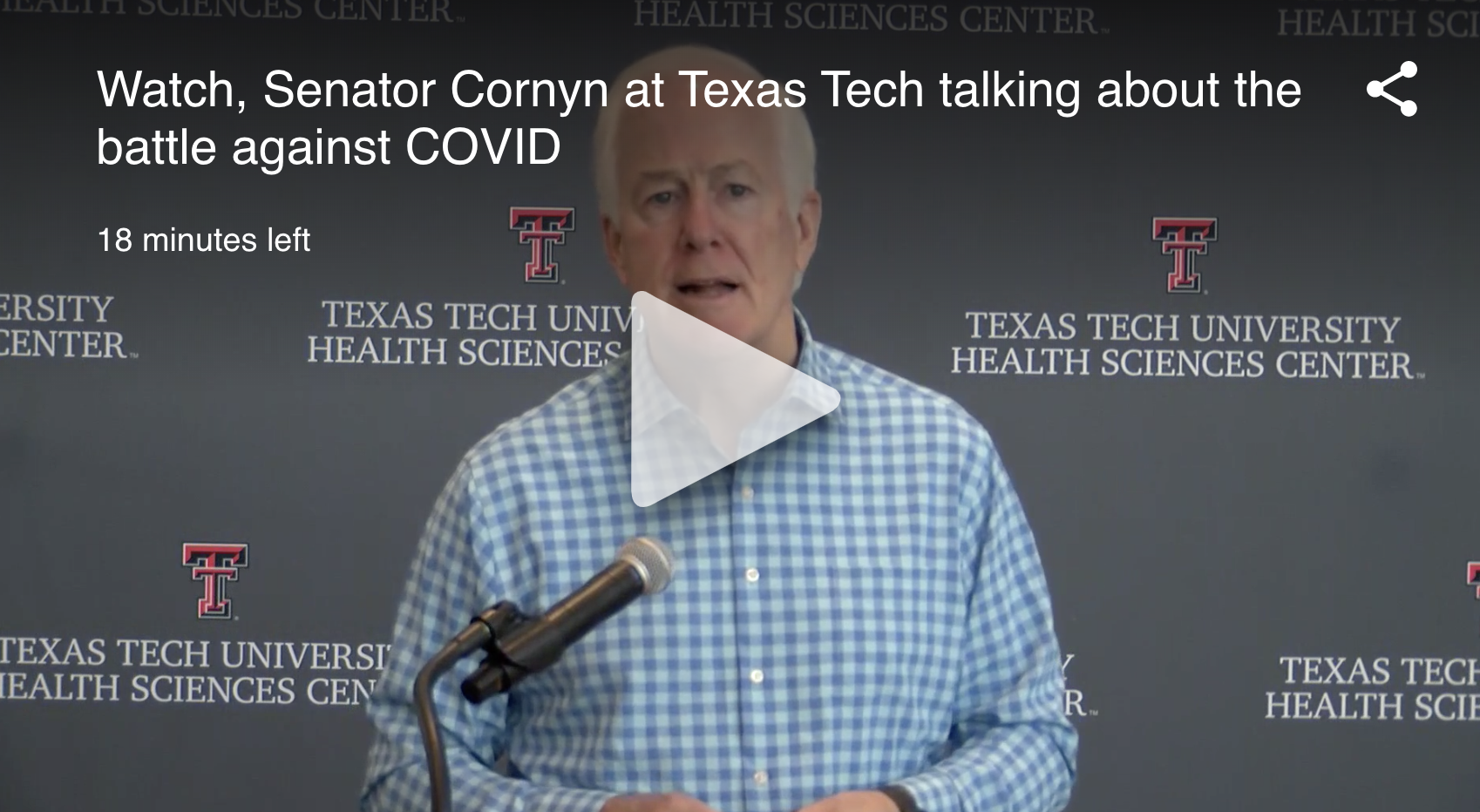 Cornyn visits West Texas Food Bank
OAOA
Cornyn was given a tour of the facility from West Texas Food Bank Executive Director Libby Campbell and followed that with a photo opportunity of helping put together food boxes for distribution. Also joining Cornyn and Campbell Monday on the tour were Midland City Councilman Spencer Robnett and Midland Health CEO Russell Meyers. "We know that we're experiencing a two-front war," Cornyn said. "One is the battle to defeat the virus, which is a public health battle and the other is the economic consequences associated with the mitigation efforts. And I should say that here in West Texas and the Permian Basin, that you're fighting a three-front war with the oil and gas crisis."

WATCH: Sen. Cornyn news conference at Hendrick Medical Center about COVID-19 response
NBC
Sen. John Cornyn was in Abilene on Monday, visiting Hendrick Medical Center to thank health care employees for their work during the COVID-19 pandemic. Following his visit with health care workers, Cornyn held a joint press conference with Abilene Mayor Anthony Williams, ACU President Dr. Phil Schubert , Abilene ISD Superintendent Dr. David Young, and Brad Holland, President & CEO of Hendrick Health System.
Texas Awarded $18.6-Million More in COVID-19 Relief Grants
KLBJ
The Economic Development Administration is awarding $18.6 million to numerous small businesses across Texas in CARES Act Recovery Assistance grants, U.S. Senator John Cornyn announced recently. These grants will administer Revolving Loan Funds that will provide gap financing to small businesses and entrepreneurs adversely affected by the coronavirus pandemic across Texas.
Senator Cornyn tours Community Healthcare Center
Wichita Falls Times Record News
U.S. Senator John Cornyn got an up-close view of the Community Healthcare Center during a tour Tuesday afternoon. They and others thanked him for his support of federal funding such as the CARES Act, Paycheck Protection Program and other programs which have been instrumental for communities and their survival of the pandemic so far.
Sen. John Cornyn visits East Texas Food Bank to discuss impacts of CARES Act funding locally
Tyler Morning Paper
Cullinane said the Coronavirus Aid, Relief, and Economic Security (CARES) Act funds helped the food bank replenish its food supply as well as bring on staff and retain employees.
On Wednesday, one of the members of Congress responsible for the legislation, U.S. Sen. John Cornyn, visited the East Texas Food Bank in Tyler to see how $77 million from the CARES Act has helped in the Tyler and Smith County area. "We're very grateful with the outcome we were able to bring through the CARES Act," Cullinane said.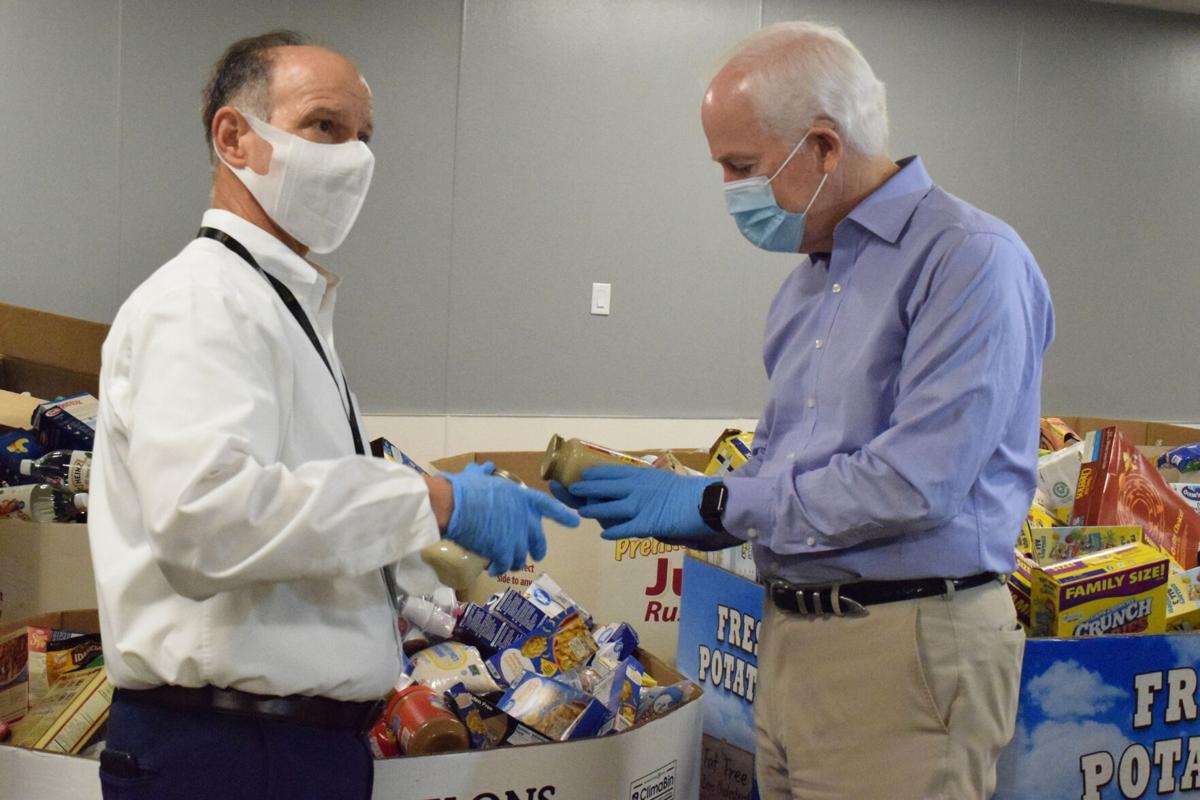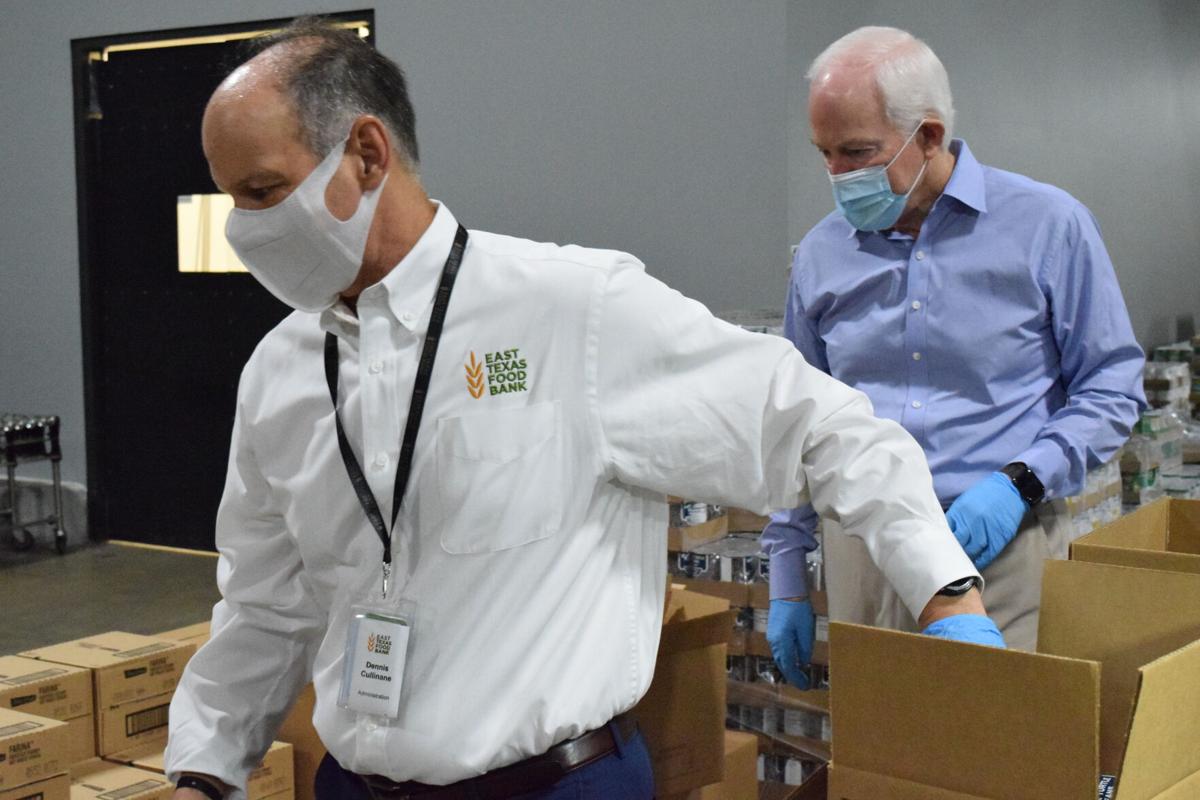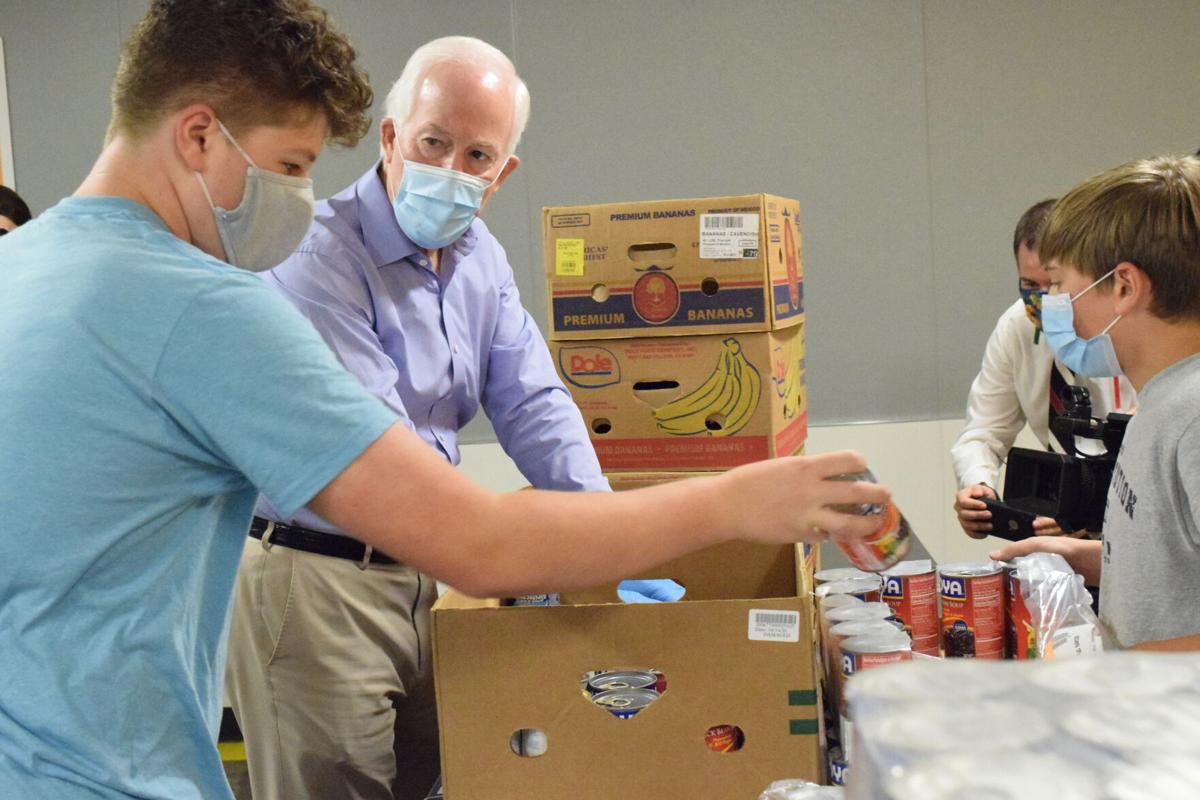 ---
The top hits from the Twittersphere
---
Follow @TeamCornyn and @CornynResponse on Twitter