Makin' Headlines – August 28
Makin' Headlines
Senator Cornyn travelled throughout Texas this last week – volunteering at food banks and meeting with students, schools and hospitals in San Angelo, Abilene, Midland, Lubbock, Amarillo, Wichita Falls, Tyler & Waco. Check out more here:
---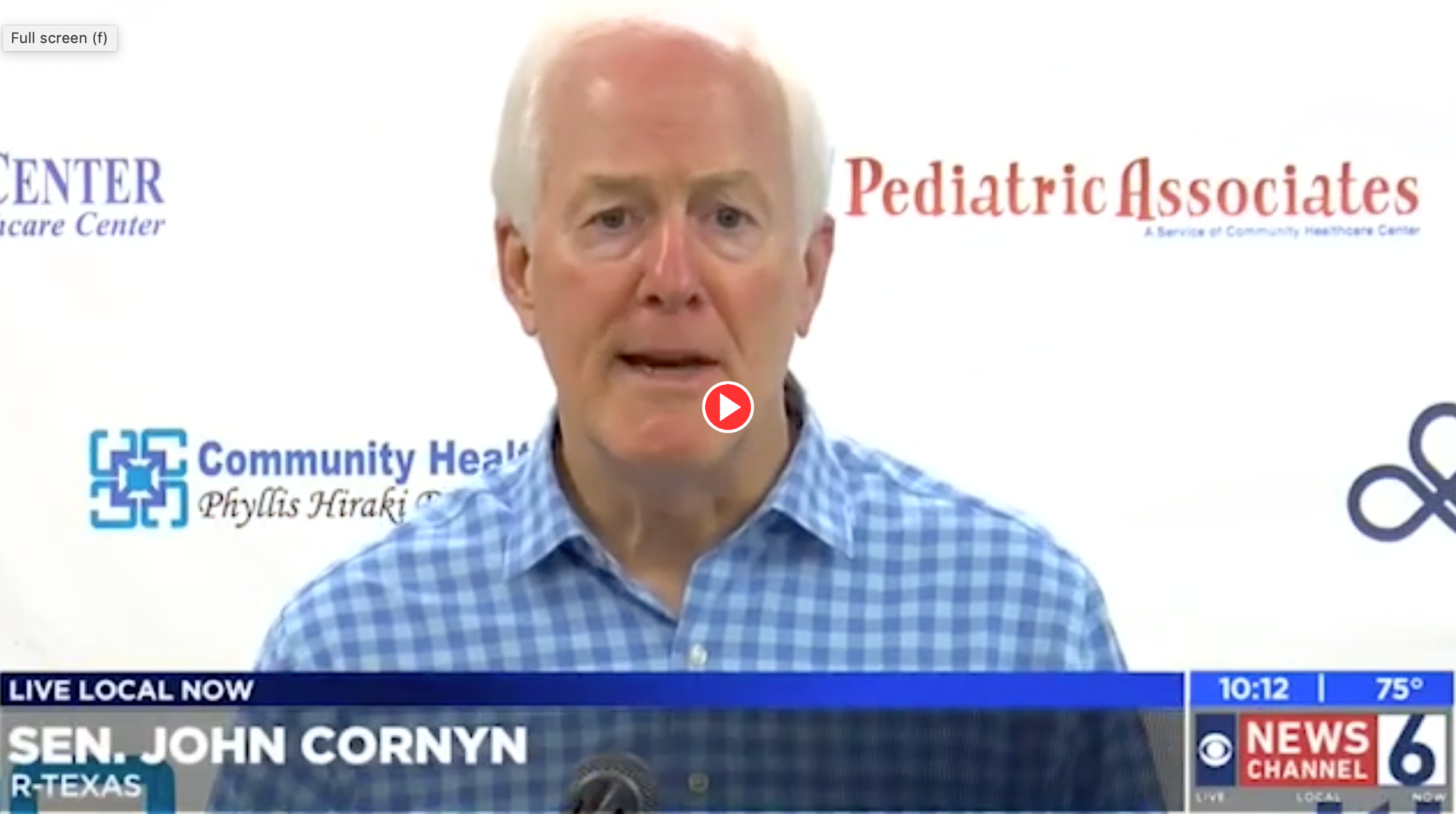 OP-ED: Congress, UNT Health Science Center working to help rural Texas health care providers
By: Senator John Cornyn & Dr. Michael R. Williams, president of the UNT Health Science Center
Fort Worth Star-Telegram
Congress provided hundreds of millions of dollars to help both providers and patients have access to the broadband and equipment they need to get connected. Legislation recently introduced by Senator Cornyn would triple the investment already made in telehealth, with at least $80 million going to small and rural providers. A person's home address should never determine the outcome of a health condition. Whether they're battling COVID-19, cancer, or a heart problem, every single Texan deserves access to quality health care, and that's what we're fighting to deliver.
Cornyn Presses Pentagon for Answers on Missing Fort Hood Soldiers
KLBJ
Following the recent disappearance of multiple Fort Hood soldiers, Senator John Cornyn of Texas has sent a letter to Army Secretary Ryan McCarthy urging continued action to investigate those disappearances and protect U.S. servicemembers serving at Fort Hood. "Soldier safety is rightfully the Army's top priority, and it is clear that changes must be made to Fort Hood in order to better safeguard the soldiers stationed there," Cornyn said. "Our brave men and women go to work every day to defend our nation, and our nation owes it to them to take every measure required to protect them."
Senator Cornyn discusses latest coronavirus relief
KGNS (Laredo)
The latest to benefit from the CARES Act are Laredo's public libraries and the public housing authority. He says Laredo Public Library requested the funding to purchase laptops to circulate to citizens, equipment to create online programming with high-quality production value, and provide STEM resources and learning kits to support instruction. "We passed four separate coronavirus bills and one of the last ones in March had $150 billion for support in state and local governments. I know I've talk to Mayor Saenz how the City of Laredo can use that money to offset some of the losses."
Sen. John Cornyn calls for changes on Fort Hood to 'safeguard the soldiers there'
KCEN
"I fully support the recent establishment of an independent commission to investigate the root causes of these issues, and I am committed to working with you to rapidly address the commission's upcoming findings," wrote Cornyn." Cornyn said once the commission released its findings he would work with MCarthy to "ensure the Army rapidly develops a strategy to address security concerns at Fort Hood."
U.S. Sen. John Cornyn gets to see how the CARES Act is helping Corpus Christi hospitals
Corpus Christi Caller Times
"I wanted to come to Corpus Christi and say to all of you who have been on the front lines: thank you for your service to this community and to our state and nation," Cornyn said. "You didn't have any choice but to come in to work. You are the ultimate essential worker." During a joint news conference, Cornyn listened to local leaders describe how the CARES Act, a coronavirus relief bill he supported in March, has been used throughout the community amid the pandemic.

Nueces County has dedicated $830,665 of funds allocated by the CARES Act to fever scanning systems, personal protection equipment, testing, protective screens, technology for remote court hearings, disinfecting and cleaning, and quarantine.
Cornyn visits West Texas Food Bank
OAOA
Cornyn was given a tour of the facility from West Texas Food Bank Executive Director Libby Campbell and followed that with a photo opportunity of helping put together food boxes for distribution. Also joining Cornyn and Campbell Monday on the tour were Midland City Councilman Spencer Robnett and Midland Health CEO Russell Meyers. "We know that we're experiencing a two-front war," Cornyn said. "One is the battle to defeat the virus, which is a public health battle and the other is the economic consequences associated with the mitigation efforts. And I should say that here in West Texas and the Permian Basin, that you're fighting a three-front war with the oil and gas crisis."

WATCH: Sen. Cornyn news conference at Hendrick Medical Center about COVID-19 response
NBC
Sen. John Cornyn was in Abilene on Monday, visiting Hendrick Medical Center to thank health care employees for their work during the COVID-19 pandemic. Following his visit with health care workers, Cornyn held a joint press conference with Abilene Mayor Anthony Williams, ACU President Dr. Phil Schubert , Abilene ISD Superintendent Dr. David Young, and Brad Holland, President & CEO of Hendrick Health System.
Texas Awarded $18.6-Million More in COVID-19 Relief Grants
KLBJ
The Economic Development Administration is awarding $18.6 million to numerous small businesses across Texas in CARES Act Recovery Assistance grants, U.S. Senator John Cornyn announced recently. These grants will administer Revolving Loan Funds that will provide gap financing to small businesses and entrepreneurs adversely affected by the coronavirus pandemic across Texas.
Senator Cornyn tours Community Healthcare Center
Wichita Falls Times Record News
U.S. Senator John Cornyn got an up-close view of the Community Healthcare Center during a tour Tuesday afternoon. They and others thanked him for his support of federal funding such as the CARES Act, Paycheck Protection Program and other programs which have been instrumental for communities and their survival of the pandemic so far.
Sen. John Cornyn visits East Texas Food Bank to discuss impacts of CARES Act funding locally
Tyler Morning Paper
Cullinane said the Coronavirus Aid, Relief, and Economic Security (CARES) Act funds helped the food bank replenish its food supply as well as bring on staff and retain employees.
On Wednesday, one of the members of Congress responsible for the legislation, U.S. Sen. John Cornyn, visited the East Texas Food Bank in Tyler to see how $77 million from the CARES Act has helped in the Tyler and Smith County area. "We're very grateful with the outcome we were able to bring through the CARES Act," Cullinane said.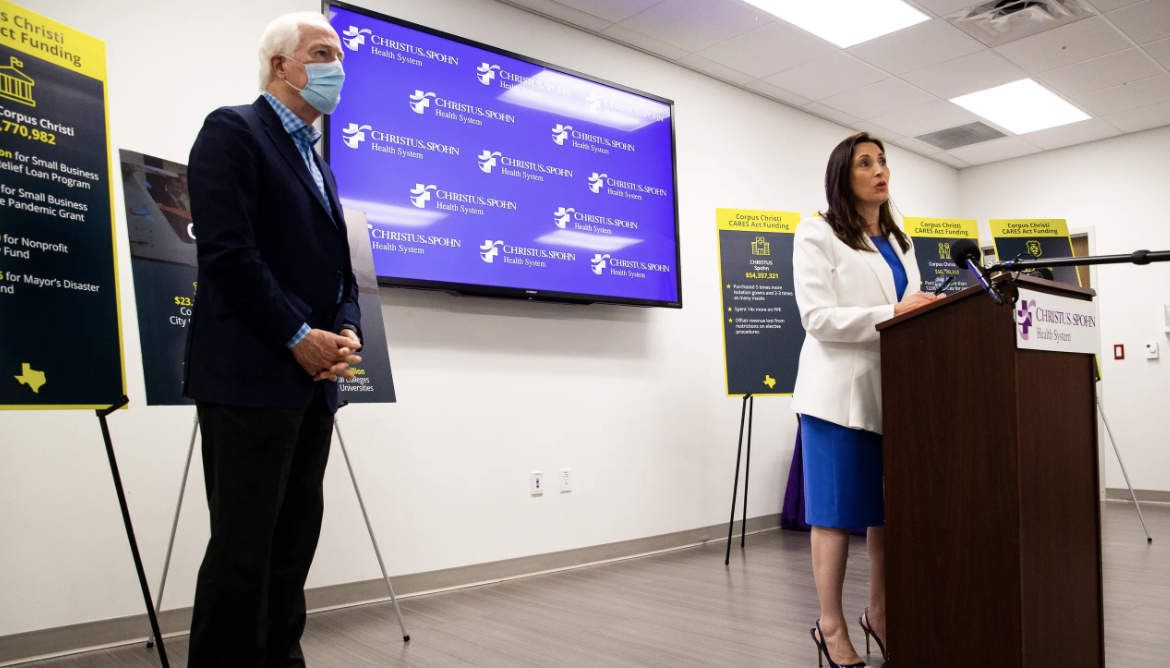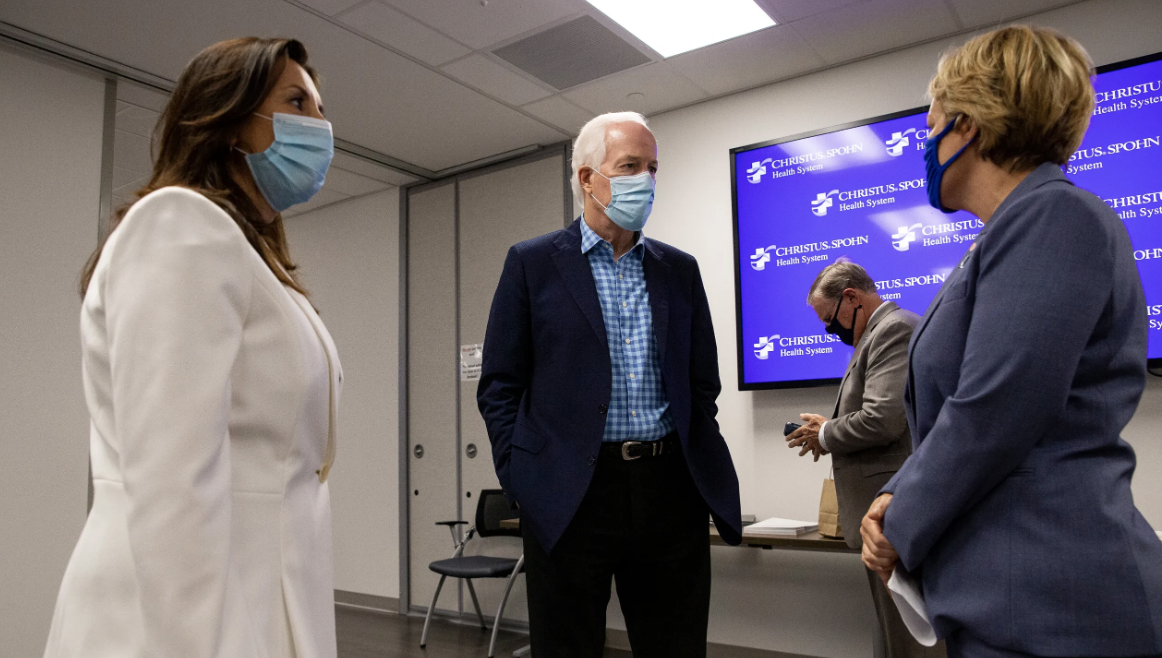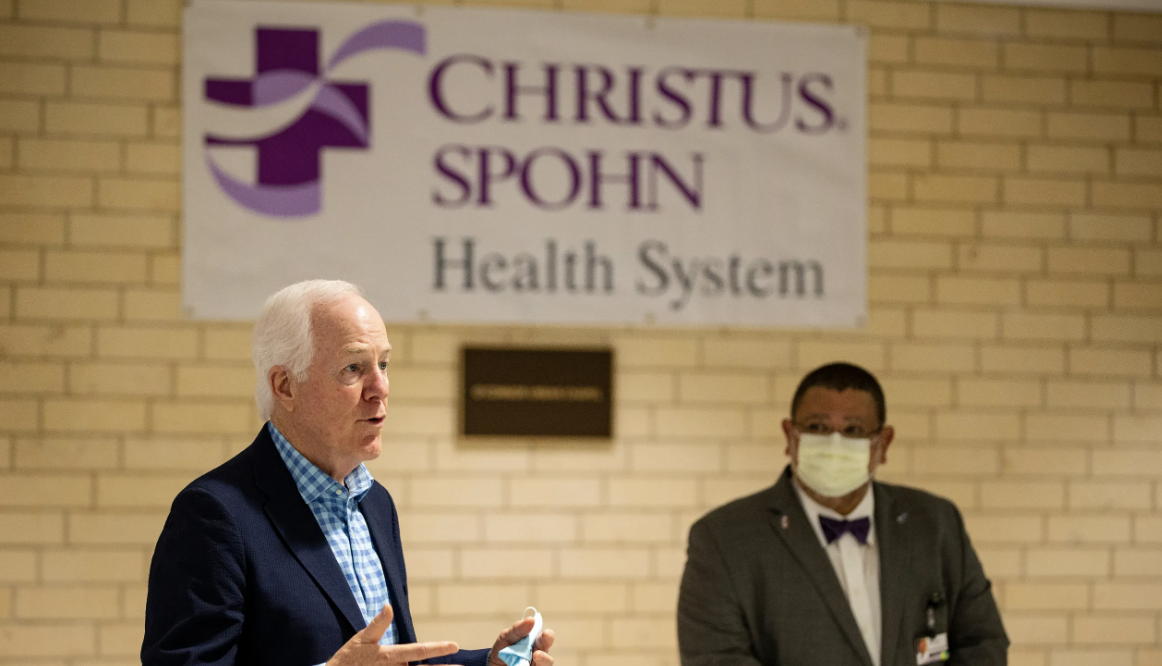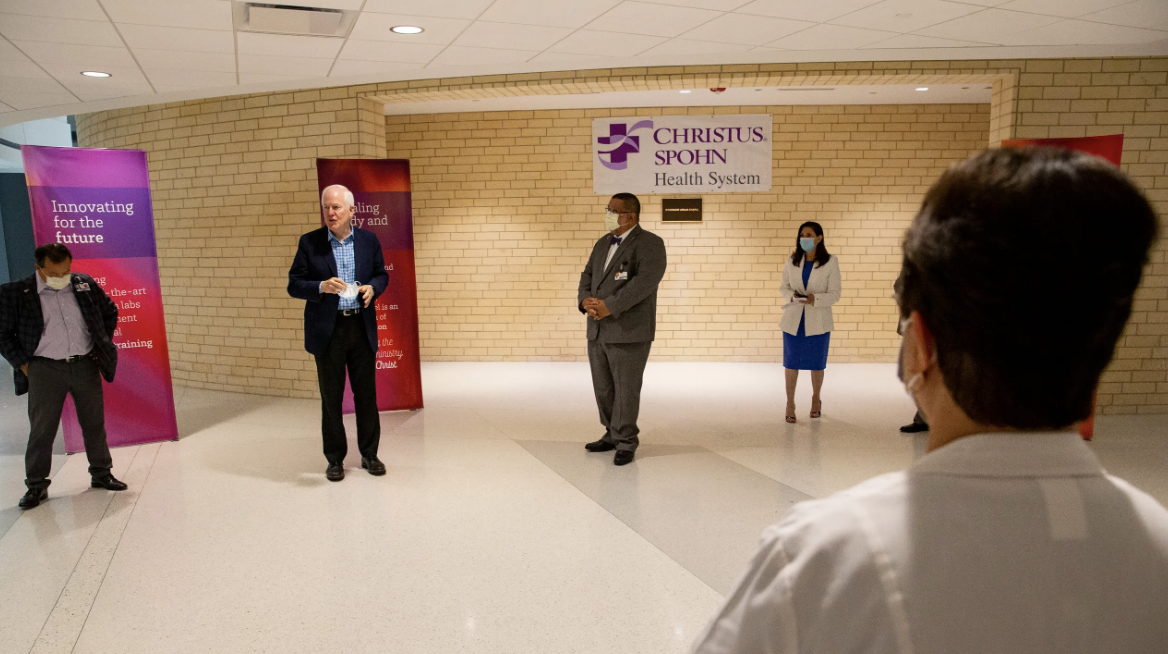 Cornyn announces $125 million in relief funding for Bryan region so far
FOX44
While in the area, Sen. Cornyn helped sort and pack boxes of food for local families in need. He was hosted by Food Bank Executive Director Theresa Mangapora, who provided a tour and briefing about the Food Bank's response to increased demand in the Brazos Valley during the pandemic. While there, Sen. Cornyn learned about the Brazos Valley Food Bank's use of federal resources available through the CARES Act, which he supported in March, as well as their outstanding needs as the Senate discusses a fifth coronavirus relief bill. Chancellor John Sharp of the Texas A&M University System, Mayor Andrew Nelson of Bryan, Mayor Karl Mooney of College Station, Superintendent Dr. Christie Whitbeck of Bryan ISD, and CEO Theron Park of St. Joseph's Health also shared how they have used CARES Act grants to benefit the community.
Sen. Cornyn visits Brazos Valley Food Bank to discuss impact of CARES Act
The Eagle
The Bryan-College Station area has received about $124.6 million in federal coronavirus relief resources from Congress. Those funds were used for a variety of relief, from rent and health care to support for local businesses. The food bank used CARES Act funds to support the large food distribution sites it held over the summer. "I know that there's been unprecedented demand on our food banks across the state and across the nation," Cornyn said. "As you know, after the virus began spreading, we not only had a public health crisis on our hands, we had an economic crisis as well. And Congress acted quickly and boldly — we don't always get it right, but I think we got it pretty close to right in terms of the expedited response to that two-front war — the public health battle and the economic battle."
---
The top hits from the Twittersphere
---
Follow @TeamCornyn and @CornynResponse on Twitter