Makin' Headlines, July 31
Makin' Headlines
Senator John Cornyn has been makin' news and fightin' for Texans this week.
---
Senator Cornyn files bill to help furloughed Americans keep their health insurance
FOX (San Antonio)
"As the coronavirus wreaks havoc on our job market, it's vital that Texans continue to have health care options, especially while case numbers are on the rise," said Sen. Cornyn in a statement. "This legislation will provide some degree of certainty to folks who have found themselves out of work through no fault of their own." The bill would cover church health insurance plans and would not cover abortion services.
CORNYN & BURGESS: SAVE Jobs Act will boost energy job market
Midland-Reporter Telegram
The entire world is reeling from the pandemic's impact, but Texas, in particular, has been hit with a one-two punch. This coronavirus has taken a firm hold on our state, and alongside it, our energy industry – one of our state's largest and proudest sectors – suffers from low oil prices and lower demand. The SAVE Jobs Act supports U.S. energy producers so they can maintain their workforce through this downturn. More energy workers on the payrolls means lower unemployment numbers for energy-heavy economies like in West Texas, and in turn, more business for Main Street – even if it is curbside for now.
Mint unveils designs for coins memorializing former President George H. W. Bush and wife Barbara
Dallas Morning News
President Donald Trump signed a bill by Sen. John Cornyn, R-Texas, and Rep. Roger Williams, R-Austin, in January that authorized the creation of the commemorative coins.
"The lives of President George H.W. Bush and First Lady Barbara Bush were characterized by love of country and service for others," Cornyn said in a January statement. "Each coin will preserve their legacy and inspire us all to serve others in their memories."
The coins will be available for purchase on Aug. 20, according to a release from the Mint.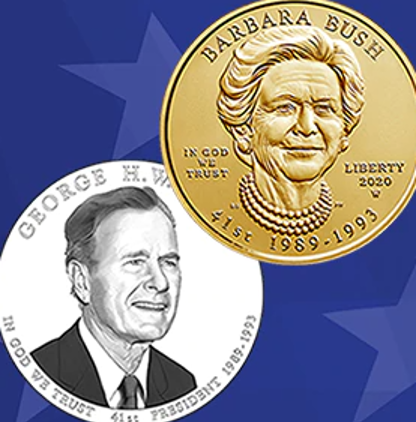 Sen. John Cornyn's Smithsonian museum for American Latinos bill passes House vote
Community Impact
"Close to 40 percent of all Texans identify as Hispanic, and their history is an integral part of Texas history that must be recognized and remembered," Cornyn said in the release. "By creating a new museum in the Smithsonian Institution, we can honor American Latino contributions and highlight their stories for future generations."
PPP Loans And Deductibility Of Business Expenses: Senator Cornyn Makes The Good Fight
Forbes
Allowing for deduction of business expenses paid for PPP loans will provide additional assistance to struggling businesses. As important, as I mentioned earlier, businesses with PPP loans they hope to have forgiven (as well as their CPA firms) are facing great uncertainty about tax filings (to deduct or not to deduct). Treasury/IRS officials should be all in for Senator Cornyn's fix that will not only help struggling small businesses but will also help prevent sand being put in the gears of tax administration – with additional filings; refilings; amended returns; etc. – a parade of horribles that could easily be avoided by accepting Senator Cornyn's bill.
City of El Paso Receives $40m in Recovery Funding for Public Transit
El Paso Herald Post
The grant award was announced by the Office of U.S. Senator John Cornyn. The funding was appropriated by Congress as part of the CARES Act. Ellen Smyth, City of El Paso Managing Director for Sun Metro and the Environmental Services Department, said the funding will assist Sun Metro as it prepares to ramp up mobility by bringing back weekday and weekend routes on August 2, 2020.
US Senate approves amendment to bolster cybersecurity in FY 2021 NDAA
Security Magazine
Under the legislation, each state would have its own federally funded Cybersecurity Coordinator, who would be responsible for helping to prevent and respond to cybersecurity threats by working with federal, state, and local governments, as well as schools, hospitals, and other entities. "As cyber threats to the United States continue to evolve, it is critical we remain ready to respond to any attack at the state and local level as well," said Senator Cornyn. "Designating one point of contact in each state to respond to cybersecurity breaches will help us mobilize our defenses and keep Americans safe in a crisis faster than ever before."
Cornyn Introduces Bipartisan Legislation to Provide Increased EIDL Loans and EIDL Advance Grants, Assist Texas Small Businesses
This bipartisan legislation would assist Texas small businesses impacted by the coronavirus pandemic by providing an additional $180 billion for the Economic Injury Disaster Loan (EIDL) and EIDL Advance programs. The bill would also prohibit the Small Business Administration (SBA) from arbitrarily capping EIDL loans below $2 million – the threshold set by Congress – and require SBA to provide $10,000 EIDL Advance grants to all eligible small businesses, regardless of size, as intended by the original CARES Act.
---
The top hits from the Twittersphere
---
Follow @TeamCornyn and @CornynResponse on Twitter