More Than 100 South Texas Leaders Endorse Senator John Cornyn for Reelection
EDINBURG – More than 100 South Texas leaders endorsed Senator Cornyn today at a special Rio Grande Valley event. Individuals included county judges, mayors, commissioners, school board leaders, community activists, healthcare providers, business owners, agriculture representatives, property owners, law enforcement and border patrol officers, veterans, faith leaders and more. The senator was joined by many of the signatories (below) at a socially-distanced press conference. Participants spoke from the heart about the senator's work – and his unique ability to reach across the aisle, even in contentious political times – and how he has delivered on critical issues for Texas' border region.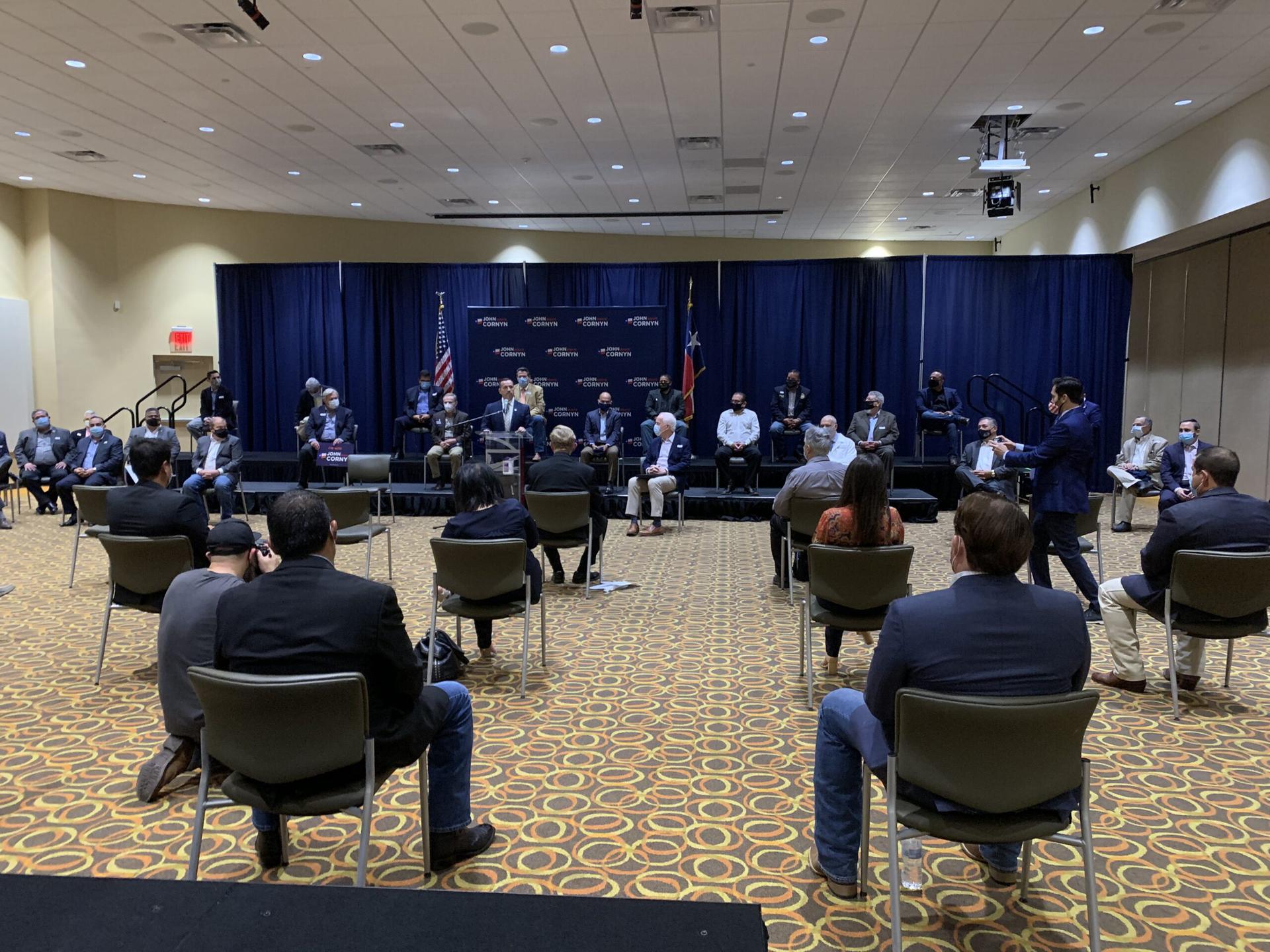 Richard Cortez, Judge, Hidalgo County
Mayor Dr. Ambrosio Hernandez, City of Pharr
Mayor Pro Temp Roberto "Bobby" Carrillo, City of Pharr
Commissioner Dr. Ramior Caballero, City of Pharr
Commissioner Daniel Chavez, City of Pharr
Commissioner Ricardo Medina, City of Pharr
Commissioner Itza Flores, City of Pharr
Mayor Pete Saenz, City of Laredo
Mayor Armando O'Cana, City of Mission
Commissioner Beto Vela, City of Mission
Commissioner Ruben Plata, City of Mission
Mayor Ramiro Rodriguez, City of Palmhurst
Mayor Jim Darling, City of McAllen
Commissioner Victor "Seby" Haddad, City of McAllen
Commissioner Javier Villalobos, City of McAllen
Commissioner Omar Quintanilla, City of McAllen
Mayor Rick Morales, City of Donna
Commissioner Eloy Avila, City of Donna
Mayor Alonzo Perez Jr, City of Elsa
Commissioner Victor Hernandez, City of Elsa
Mayor Sergio Coronado, City of Hidalgo
Mayor David Suarez, City of Weslaco
Mayor Henry Hinojosa, City of Mercedes
Mayor Olga Maldonado, City of La Feria
Mayor George Rivera, City of Palm Valley
Commissioner Omar Quintanilla, City of McAllen
Mayor Chris Boswell, City of Harlingen
Mayor Pro Tem/Alderman Rick Cavazos, City of Los Indios
Mayor Susie Houston, City of Laguna Vista
Mayor Patrick McNulty, City of South Padre Island
Former Mayor Barry Patel, City of South Padre Island
Former Judge Rene Ramirez, Hidalgo County
Former Judge Pete Sepulveda, Cameron County
Former Mayor Ramsey English Cantu, City of Eagle Pass
Former Mayor John David Franz, City of Hidalgo
Trustee Julio Cerda, SISD
Trustee Hector Rivera, SISD
Trustee Jose "Pepe" Garcia, SISD
Trustee Ricky Longoria, SISD
Trustee Melissa Smith, SISD
Former Trustee Dr. Noel Garza, SISD
Trustee Tony Forina, MISD
Trustee Marco Suarez, MISD
Trustee Dr. Nolan Perez, HCISD
Sheriff Marion Boyd, Dimmit County
Sheriff Benny Martinez, Brooks County
Sheriff Richard Kirkpatrick, Kleberg County
Border Health PAC
LIBRE Action
Roger Rocha Jr., Latino Civil Rights Advocate/Community Leader for Texas
Alonzo Cantu, Community Leader, South Texas
Cindy Reyes Garza, Edinburg
Steve Ahlenius, McAllen
Hector Cerna, Eagle Pass
Michael Scaief, San Benito
Alex Meade, Pharr
Pastor Eluid and Kathy Garcia, Mission

*List at time of release, more to follow!
South Texans' Property Rights Association PAC
Whit Jones, Hebbronville
Orthal Brand, McAllen
Bret Erickson, SVP Business Affairs and J&D Produce Inc.
Dante Galeazzi, Texas International Produce Association, Mission
Webb Wallace, Harlingen
Brian Jones, Edcouch
Fausto Salinas, Sullivan City
Mike Helle, Edinburg/McAllen
Dale Murden, Harlingen
Gustavo Martinez, Donna
Rigoberto Villarreal, Mission
Sasha Crane, McAllen
Joaquin Spamer, McAllen
Eddy Betancourt, McAllen
Humberto Saenz, Pharr
Martha Villarreal, Mission
Saul Garcia, McAllen
Hollis Rutledge, Mission
Cynthia Leon, Mission
Shelia Valles Pankratz, Mission
Annette Franz, McAllen
John David Jr. and Kathy Franz, McAllen
Danny Rios, McAllen
Sam Vale, McAllen
David DeAnda, McAllen
Val LaMantia, McAllen
Tony Salinas, Hebbronville
Rick Molina, San Antonio
Guy Ellison, San Antonio
Heriberto Ibarra Jr., Hebbronville
IB Gutierrez Jr., Hebbronville
Alice and Joe Mendoza, Kingsville
Memo Trevino, Laredo
Fred Farias, McAllen
Rick Guerra, McAllen
Nick Serafy, Brownsville
David C. Garza, Brownsville
Al Villarreal, Brownsville
Jim Tipton, Brownsville
Reba Cardenas McNair, Brownsville
Nico Schaefer, Brownsville
Ross Barrera, Rio Grande City
Cornelio Garza, Rio Grande City
Joel Garza, Historian, Rio Grande City
Dario Garza, Land Developer, Rio Grande City
Roel Reyes, Businessman, Rio Grande City
Rolando D Pau, Retired Border Patrol Agent, Rio Grande City
Mauro Villarreal, Navy Veteran, Rio Grande City
Anita Garza-Dominquez, Retired Army Master Sergeant, Rio Grande City
Norma Salinas, Retired Army First Sergeant, Rio Grande City
Marissa Rodriguez, Retired School Paraprofessional, Rio Grande City
Lucy Reese, Rio Grande City
Toni Trevino, Rio Grande City
Benito Trevino Jr., Rio Grande City
Jaime Sr. and Lydia Saenz, Carrizo Springs
Jaime Jr. and Ana Saenz, Carrizo Springs
Working together with local leaders, Senator Cornyn has supported mitigation and flood control efforts throughout the Rio Grande Valley. He has secured millions to ensure South Texas levees are safe and adequate to protect communities when the next natural disaster strikes. Similarly, he's worked on numerous efforts to boost transportation and infrastructure. Senator Cornyn is a leading voice in promoting robust cross-border trade, and was proud to support the new U.S.-Mexico-Canada-Agreement (USMCA) earlier this year.
At the event, Senator Cornyn discussed his support for schools, teachers and students. His GEAR UP for Success Act has sent millions to area schools to increase college and career readiness for underrepresented and low-income students. He also discussed his current efforts to ensure broadband internet access for students and families across Texas; a need exacerbated by COVID-19.
The senator also spoke about his support of DACA and commitment to pursuing fair, compassionate immigration reform. He emphasized the need to invest in virtual surveillance technology to bolster border security, recognizing the common goal – regardless of party affiliation – to put an end to human smuggling and drug trafficking across the border.
"I'm honored and humbled to receive the support of the leaders in this room today. We've accomplished a lot together, but we have more work to do and more principles to protect," said Senator Cornyn.
# # #