DOUBLE TALK: MJ + SCOTUS Nomination and Packing the Court
Election Day is 8 days away and, tonight, the U.S. Senate will vote to confirm an exceptionally qualified, new Supreme Court justice. Senator Cornyn has been a leader during the confirmation process, committed to ensuring transparency for the American people.
MJ, on the other hand, has been cagey and contradictory on her SCOTUS positions.
"She's been very vague because she's trying to win over crossover voters while at the same time not alienating progressives," Rice University political scientist Mark Jones told the Dallas Morning News. Call it vague — We say dishonest. And Texans aren't going to stand for it.
Today we look at: MJ + SCOTUS Nomination and Packing the Court
The Biden-Hegar talking points on packing the court: They'll keep voters in the dark until "the election is over." This isn't new for MJ. She was the only Democrat who refused to answer this question during the primary (Texas Tribune, 2/12/20):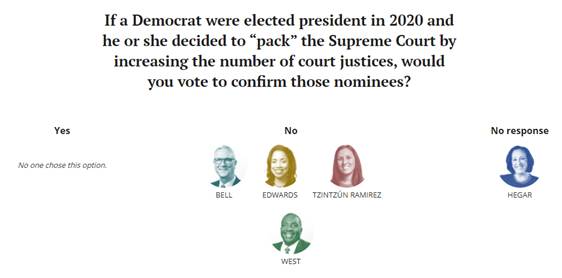 Then last month, when asked by the Austin American Statesman if she would vote for a SCOTUS nominee if the shoe was on the other foot (Democrat president and Senate + final days of the election) and MJ contradicted her own criticism of Senate Republicans by responding: "I can say that my senate colleagues and I have an obligation to do our jobs quickly and efficiently."
MJ is keen on saying "the Supreme Court is on the ballot." If so, voters can't trust MJ to keep her word unless it benefits her.