Makin' Headlines – October 2
Senator John Cornyn has been makin' news and fightin' for Texans this week.
---
Cornyn Votes To Protect Texans With Pre-Existing Conditions In New Bill
San Marcos Corridor News
"On top of all the health scares we face right now, Texans should not have to fear being denied access to affordable health insurance because of a pre-existing condition," said Sen. Cornyn. "Despite the best efforts of Democrats to convince otherwise, I'm committed to ensuring that no Texan will go without coverage due to a pre-existing condition."
Cornyn Confident That Amy Coney Barrett Will Be Quickly Confirmed
Chad Hasty Show
Wednesday on The Chad Hasty Show, United States Senator John Cornyn (R-TX) joined the program to talk about the confirmation process for Judge Amy Coney Barrett as the next Justice of the U.S. Supreme Court. During the interview Cornyn said of Senate Democrats, "They've pretty much admitted what you just said, which is they can delay it, but they can't stop it…I feel very confident that we'll be able to get Judge Barrett confirmed before November 3rd."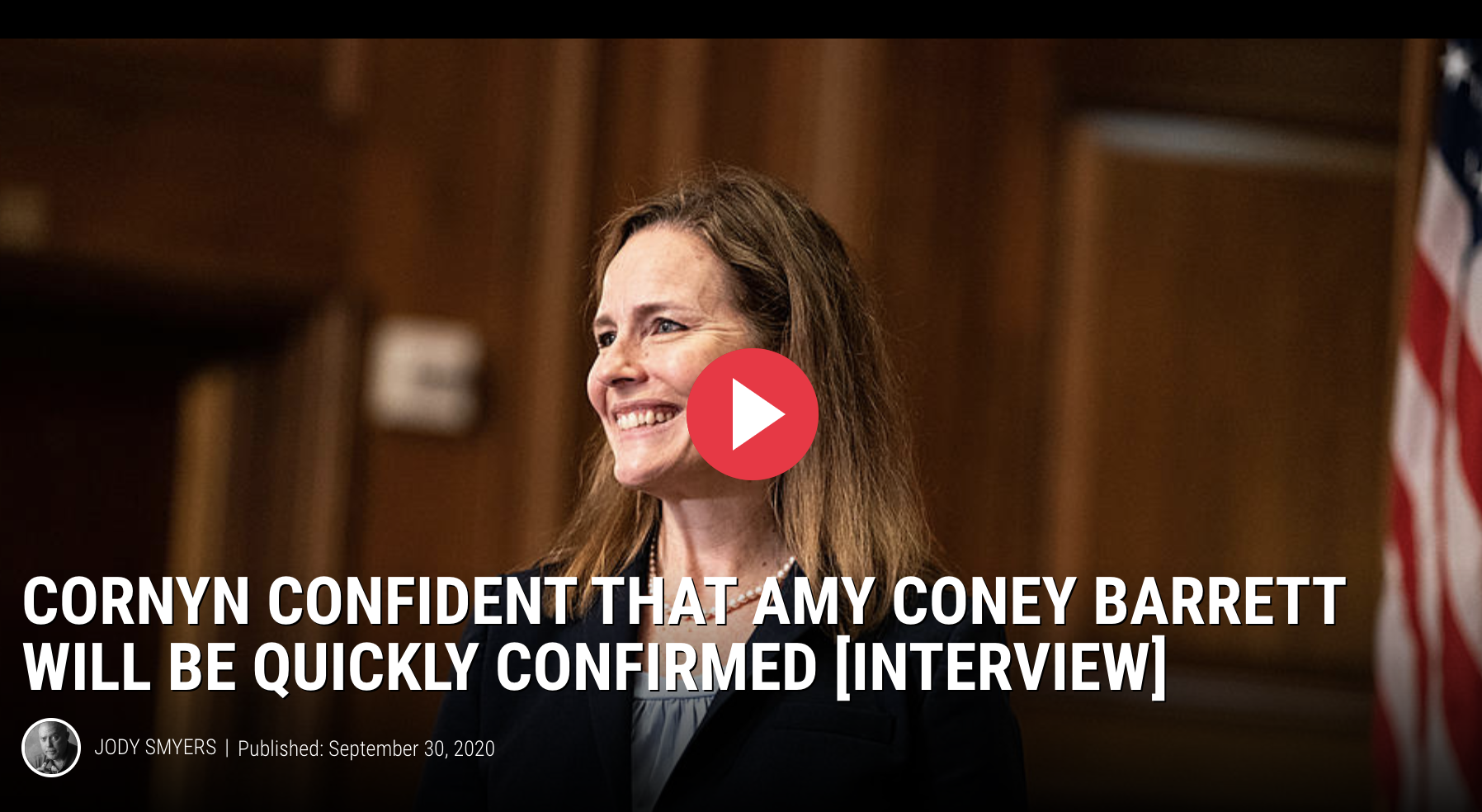 Senators Target Big Tech's Legal Immunity In Online Drug-Dealing Crackdown
Forbes
In a bid to stop the sale of opioids and illicit drugs online, two senators have proposed legislation that would see internet companies stripped of the legal immunity shielding them from liability over content posted by their users, the latest in a series of bills to target the protection.
Cornyn: UTRGV to Receive $1.9M Agriculture Innovation Grant
Texas Border Business
The University of Texas Rio Grande Valley was awarded a federal grant of $1,899,545 to encourage conservation innovation on Texas farms. "With a rich, long history across the Lone Star State, it is critical that we give Texas farmers everything they need to continue to be a pillar of our booming state economy," said Sen. John Cornyn.
Gov. Abbott Supports Cornyn's Broadband Legislation
San Angelo Live
"At a time when high-speed internet is increasingly important to Texans' daily lives, it is essential that we continue to expand broadband access throughout the state," said Governor Abbott. "Senator Cornyn's 'Eliminate the Digital Divide Act' offers a strategic path forward to bridge the broadband gap and improve access to high-speed internet for all Texans, especially those in rural or underserved communities. This legislation will support local economies, boost student learning, spur workforce creation, and provide more opportunities for all Texans."
Cornyn, Cuellar send letter demanding plan to reopen ports of entry
Valley Central
Elected officials sent a letter to Acting Secretary of Homeland Security Chad Wolf over the continued travel restrictions in place at ports of entry demanding a plan for their reopening. U.S. Senator John Cornyn and U.S. Representative Henry Cuellar were joined by others to express their concerns on the travel restrictions and re-establish normal operations. The letter reads in part: "We fully appreciate the difficult balance the Department of Homeland Security (DHS) must strike between public health concerns and social and economic equities. As we enter the seventh full month of restrictions, it is critical that DHS develop a plan for returning to normal operations and communicate this plan and necessary benchmarks that must be met to local stakeholders in our border communities."
Cornyn: I'm ready to work with anybody to get job done for my people
Rio Grande Guardian
Senator Cornyn was endorsed by more than 100 South Texas leaders. Individuals included county judges, mayors, commissioners, school board leaders, community activists, healthcare providers, business owners, agriculture representatives, property owners, law enforcement and border patrol officers, veterans, faith leaders and more. The senator was joined by many of those who endorsed him at a socially-distanced press conference in Edinburg. Participants spoke from the heart about the senator's work – and his unique ability to reach across the aisle, even in contentious political times – and how he has delivered on critical issues for Texas' border region.
Sen. Cornyn: 'Despicable' for Dems to Use Judge Barrett's Faith Against Her
CNS News
"It's despicable. There's no religious tests in America. It's a place they should not go," said Senate Judiciary Committee member John Cornyn.
Texas Workforce Commission to Receive $28M Federal Grant to Address Unemployment Caused by Pandemic
KJAS (Jasper)
"This pandemic has left millions of Texans out of work through no fault of their own, and I will continue to do everything in my power to help them during this time of great need," said Sen. Cornyn. "Countless Texas families stand to benefit from the nearly $28 million coming to the Texas Workforce Commission through both employment and training opportunities."
Lone Star College awarded $750,000 federal grant
Community Impact
Lone Star College has been awarded a $750,000 federal grant for the purpose of expanding its capacity to serve low-income students. "It is crucial that Texas students are provided with the resources necessary to succeed as the school year starts back up," Cornyn said in the press release. "I'll continue to do everything in my power to ensure Lone Star College can offer the best possible education for its students."
Letters: 'We will not rush' — Sen. Cornyn responds to Supreme Court nomination
Houston Chronicle
Following the revered Justice Ruth Bader Ginsburg's passing, some have tried to compare this vacancy to 2016. But the facts are different. Then President Obama was in the last year of his last term, and the Senate was controlled by the opposite party. No Senate had confirmed a Supreme Court Justice under those circumstances since 1888. This year, the White House and Senate are led by the same party and the President is seeking re-election. More than two dozen Justices have been nominated and confirmed under similar circumstances. Not only did Americans elect a Republican majority in 2014 and 2016, but Americans expanded that majority in 2018 because Republicans pledged to support Pres. Trump's judicial appointments. The Senate will uphold its constitutional duty and vote on a Supreme Court nominee this year. We will not rush the process; we will thoroughly vet the nominee and only then vote as the Constitution requires.
---
The top hits from the Twittersphere
---
Follow @TeamCornyn and @CornynResponse on Twitter