Makin' Headlines – September 11
Makin' Headlines
Senator John Cornyn has been makin' news and fightin' for Texans this week.
---
Cornyn: More Coastal Protection is Coming
Rio Grande Guardian
Texas had a near miss last month. Contrary to earlier projections, Hurricane Laura brought significantly less damage than anticipated. Had the storm shifted slightly west, our communities would be devastated like those of our Louisiana neighbors. Had it moved more slowly, the rainfall and storm surge could have rivaled that of Hurricane Harvey. Truth be told we were lucky this time, but next time we may not be. When the next major storm barrels toward Texas' coastline, we can't just bank on luck – we need to ensure preparation is on our side.
Cornyn: Texas families, small businesses recovering; But more relief needed
El Paso Herald-Post
"We need to provide schools with the funding to keep kids in the classroom safe and those at home on track for a great education – but to be honest, more is needed for those learning in-person…
"As I traveled, I was able to see how schools, our health care facilities, our food banks, local governments, and more have been able to use the federal coronavirus funding provided for in the CARES Act. The feedback and insight that I received was invaluable to my work here in the Senate, and it's more important than ever as we continue negotiations on the next coronavirus relief bill."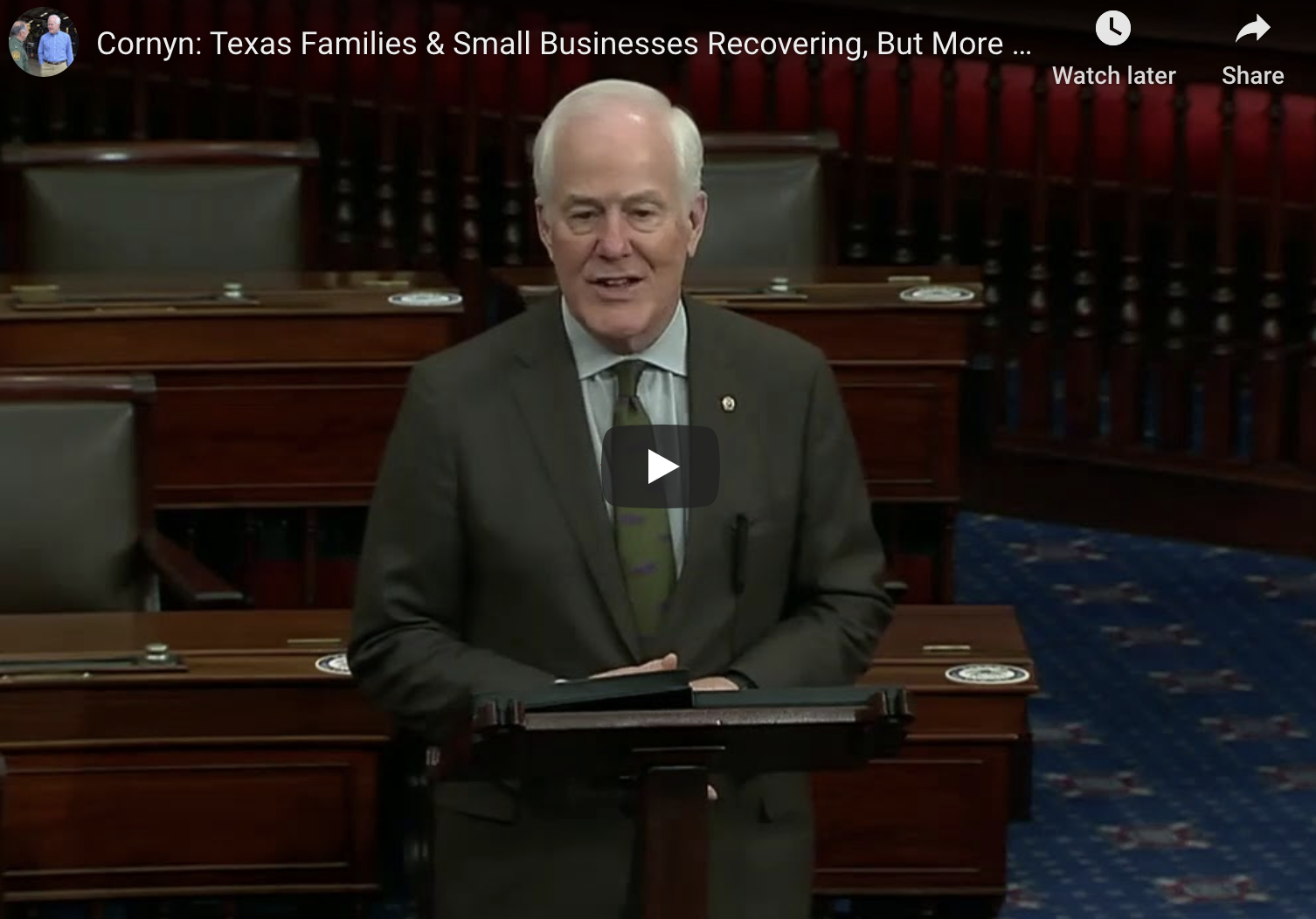 Texas State to receive federal grant for active shooter response training
University Star
The grant money will be provided to the Advanced Law Enforcement Rapid Response Training center to provide multi-disciplinary, scenario-based active shooter training to first responders. The funding comes through the Department of Justice's Office of Community Oriented Policing Services' Preparing for Active Shooter Situations program. "First responders risk their lives every day to ensure the safety of our families, friends, and neighbors, and they deserve the best possible training to do their jobs," Cornyn said. "Texas State's ALERRT Program has proven to be highly successful in training first responders in Texas and across the nation to respond to active shooter situations and is leading the way in keeping those who protect us safe."
Texas Sen. John Cornyn Calls For Public Hearing On Fort Hood Disappearances, Deaths
CBS (DFW)
U.S. Sen John Cornyn (R-Texas) is calling for a public hearing on the independent review of Fort Hood following the disappearances and deaths of soldiers this year. "As parents and United States Senators, we are heartbroken by the deaths of SGT Fernandes, SPC Guillén, and the other U.S. soldiers stationed at Fort Hood, and we are determined to seek justice and answers for their families and to ensure the Army is implementing necessary reforms at Fort Hood, and that Congress is holding the Army accountable."
The coronavirus pandemic has led to a surge of lawsuits targeting an array of businesses. Given that the coronavirus is so widespread, it would be expensive, and possibly devastating, for small businesses to fight an unfair case in court. Even if they win, fighting a long legal battle could shut down more businesses at a time when many are struggling to stay open. This is why Senator John Cornyn (R-TX), together with Senate Majority Leader Mitch McConnell (R-KY), introduced the "Safeguarding America's Frontline Employees To Offer Work Opportunities Required to Kickstart the Economy Act," or the SAFE TO WORK Act.
Cornyn: Sherman to receive $400K CARES Act grant to aid local businesses during pandemic
North Texas E-News
Texoma Council of Governments will receive a federal grant totaling $400,000 to coordinate with rural communities to strategically leverage resources that assist in local economic recovery during the pandemic, U.S. Senator John Cornyn announced. This grant will be used to support local redevelopment and revitalization in the region and to assist communities in responding to the coronavirus pandemic. The funding comes through the Economic Development Administration as a part of the CARES Act which Sen. Cornyn supported in March. 
Grant to help Travis County Sheriff's Office deputies access mental health services
KVUE
The Travis County Sheriff's Office will receive a $102,045 grant to help improve the delivery of and access to mental health services. "Because we rely on first responders to keep our communities safe, it is critical that we provide them with the tools they need to do their jobs," said Sen. Cornyn. "We ask our law enforcement officers to do too much so I will continue working to ensure police in Travis County don't go without the support they need."
---
The top hits from the Twittersphere
---
Follow @TeamCornyn and @CornynResponse on Twitter