MJ's Dangerous 'Campaign Zero' Plan
Election Day is 7 days away and Texas voters still don't know who MJ Hegar is — let alone her policy plans. The latter is a result of her refusal to dive deeper into policy discussions, or – when held to account – flat-out denial of her past comments.
Today we look at: MJ's Dangerous 'Campaign Zero' Plan
MJ's entire criminal justice/police reform plan is based on "Campaign Zero." It's on her website, her Twitter feed, and is a go-to talking point. But two-clicks into its website shows that Campaign Zero advocates radical policies — including decriminalizing prostitution, trespassing and loitering.
Campaign Zero's co-founder, DeRay Mckesson, is an avid proponent of abolishing the police. "Ultimately, we need abolition, to replace the systems that harm us with ones that heal us;" "We stand with those reimagining public safety without police;" and "It is possible to abolish the police — an institution that is one of the remnants of enslavement." (On The Path Toward Police Abolition, 6/5/20) His co-founder, Samuel Sinyangwe, has this to say: "It's not just about harm reduction, it's about how do we move towards transformational change that goes beyond changing use-of-force policies but includes building alternatives to the police and defunding the police."
MJ denies knowledge of the above, which is either 1) alarming that a U.S. Senate candidate has done little-to-no research on her sole resource for a policy platform; or 2) a lie.
Caught in the latter, MJ tries another tactic: Say that Campaign Zero's platform must have changed without her knowledge. Yet a high-profile component of the platform embraced by the likes of Oprah and Ariana Grande, called #8CANTWAIT, was launched at the height of MJ's embrace of Campaign Zero (archived 6/22/20):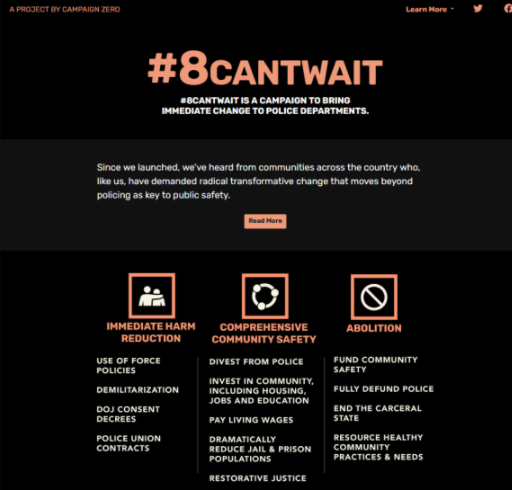 While this was front-and-center on Campaign Zero's website, MJ said:
"We need policing reform. I support proposals outlined in Campaign Zero." (Remarks At A Fort Bend Young Democrats Virtual Town Hall, 6/24/20)
"I support proposals that are outlined in places like Campaign Zero" (Interview With Left In Texas, 6/29/20)
"I have long since been a vocal advocate for Campaign Zero" (Progress Texas Happy Hour, 7/3/20)
"I support proposals that are outlined in places like Campaign Zero…" (Rolling Stone, 8/14/20)

Every town, every city, every community in Texas has a law enforcement presence and – as a result – every Texan ought to know about the radical platform MJ has adopted as her criminal justice policy.