So-called "Tough Talk": "Earmuffs Kids!," MJ is Speaking
Election Day is 11 days away and Texas voters still don't know much about MJ Hegar, but what they have heard likely included some #NSFW 4-letter words.
Today we look at: "Earmuffs Kids!," MJ is Speaking
Campaigning for office is like going on a million job interviews. Those doing the hiring have to consider not just an applicant's qualifications, but also their temperament and how'd they'd work with other members of the team.
These are not MJ's strong suits. Even Royce West — a 27-year veteran of the Texas Senate — pointed out how MJ's insult-driven threats to fight anyone with a different opinion don't fit the demeanor needed to be a successful legislator.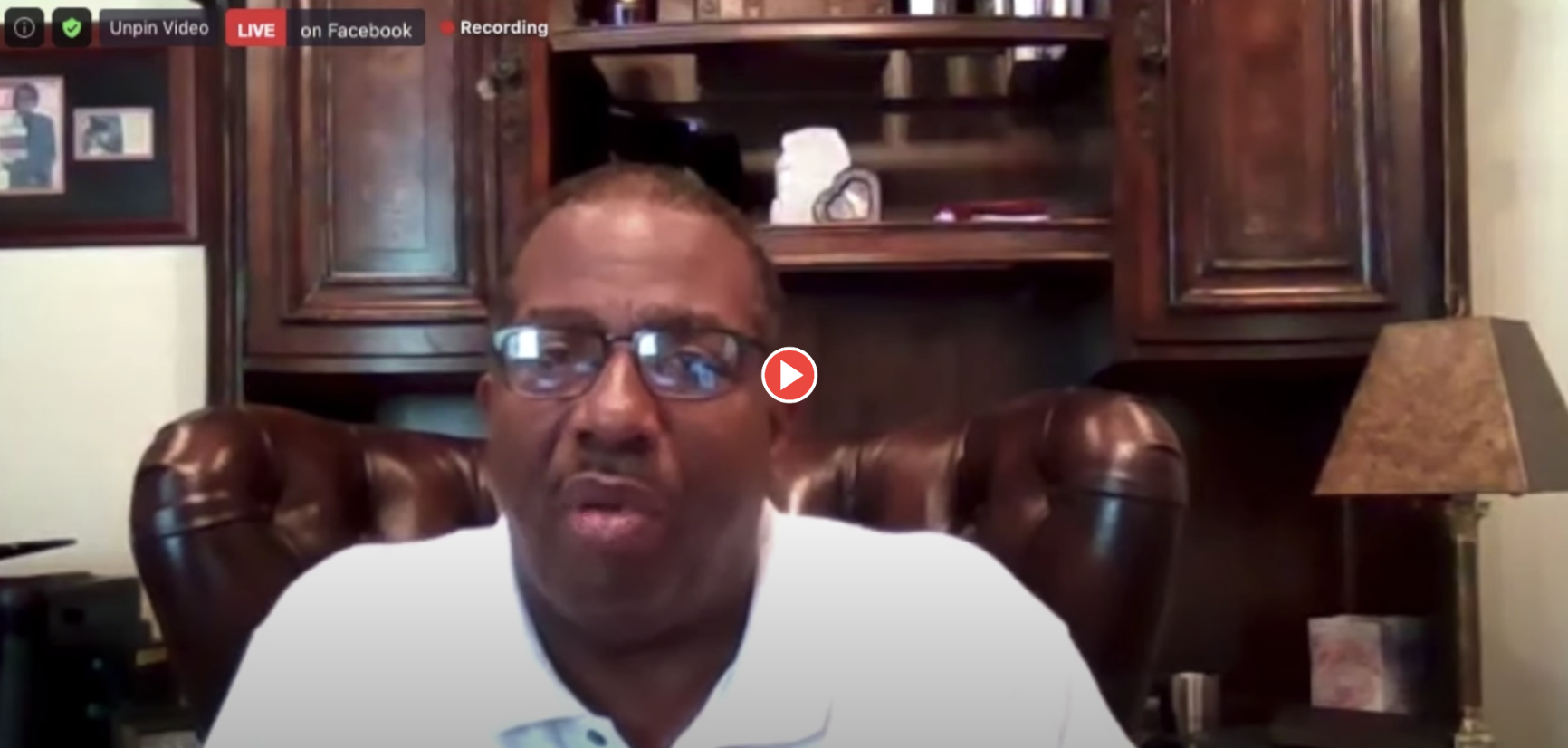 When her explicit language was brought up yesterday, MJ blew a gasket and spiraled into a profanity-laden Twitter tirade (as covered in the Dallas Morning News). This, after a local pastor said she cussed in church multiple times during a photo op in Dallas last weekend.
This is an obvious and stark contrast to Senator Cornyn — who is ranked as one of the most bipartisan and (as a result) effective members in the Senate. If elected, MJ's inability to reign it in in the workplace could mean Texas is left out of important legislation and leadership posts.
On November 3, voters are going on a hiring spree. It's important they have a full picture of their candidates in order to assess how they can successfully reach out to those with different ideas, build bridges with 99 fellow Senators, and deliver for Texas.
In MJ's Own Words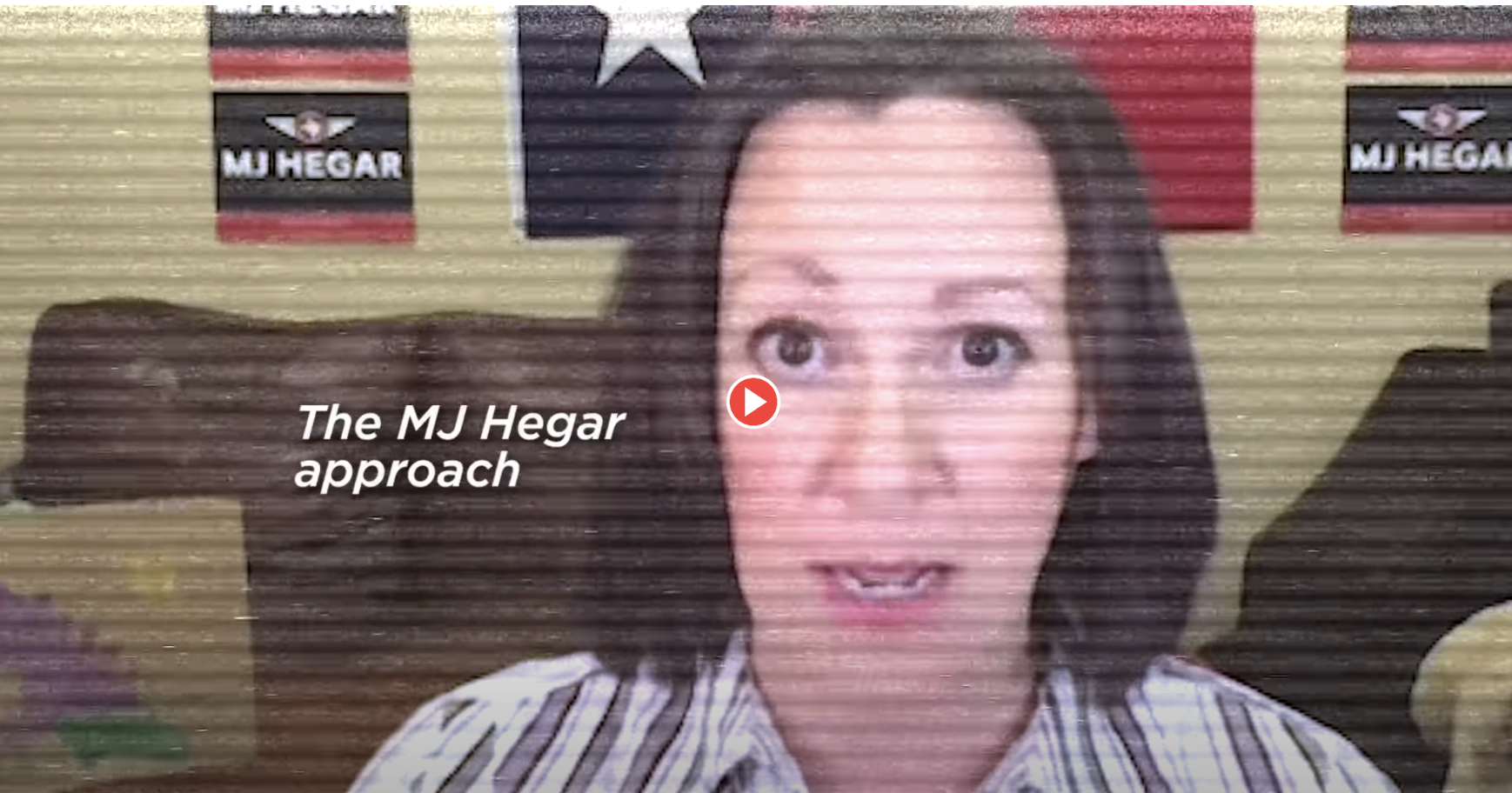 Hegar In May 2020: "You Guys Have Kids Listening? Earmuffs Kids! That's Bullshit, All Right. I'm Calling Bullshit. That's Ridiculous." HEGAR: "That's— what time is it? You guys have kids listening? Earmuffs kids! That's bullshit, all right. I'm calling bullshit. That's ridiculous." (MJ Hegar, Remarks At North Texas Town Hall, 5/11/20)
Hegar In June 2020: "You May Want To Earmuff Them Because I Have Some Strong Language To Share Tonight, Okay?" HEGAR: "Angela, I love seeing your kids. You know, I pinned your video for a while because your kids are so cute. You may want to earmuff them because I have some strong language to share tonight, okay? It's a happy hour" (MJ Hegar, Remarks At Electing Women Happy Hour, 6/4/20)
Hegar: "We're Going To Kick Some Serious Ass Over The Next Five Months Because, As All Of Us Know, If You Mess With The Bull, You're Gonna Get The Horns. … You Don't Fuck With Texas Women." HEGAR: "And, clearly, we have had enough. Together, we're going to kick some serious ass over the next five months because, as all of us know, if you mess with the bull, you're gonna get the horns. And any person who has stepped foot inside our borders in Texas knows, you don't fuck with Texas women." (MJ Hegar, Remarks At Electing Women Happy Hour, 6/4/20)
Hegar In September 2019: Texans "Can Vote For A Spineless, Panty-Waste, Bootlicking Ass-Kisser…" HEGAR: "They can vote for a spineless, panty-waste, bootlicking ass-kisser, or they can vote for an ass-kicker." (MJ Hegar, Remarks At TribFest, 9/28/19)
Hegar In March 2017: "This Like Dick Measuring That Happens Between Guys." HEGAR: "You know, they're not sure if they can go to each other with that stuff because they don't wanna get ribbed but they know they can come to me because I'm not gonna – And I don't know if that's more of my personality and who I am versus being a woman. But there is this natural, kind of you know, pardon my language, this like dick measuring that happens between guys. Especially in very masculine environments that sometimes women can be exempt from." (Remarks On Elliot In The Morning, 3/16/17)
Hegar In October 2019: "Are You Shitting Me?" HEGAR: "Are you shitting me? I'm so angry." (MJ Hegar, Remarks At Beto O'Rourke Rally, 10/17/19)
Hegar In February 2020: "I Don't Give A Shit About Getting Re-Elected." HEGAR: "I'd like to get re-elected.' I don't give a shit about getting re-elected." (MJ Hegar, Remarks At A Campaign Event, 2/5/20)
Hegar In February 2020: "I'm All In. Let's Kick His Ass. … We Are Going To Kick His Ass And Ann Richards The Shit Out Of This Thing." HEGAR: "And I was like, fair, let's do it. I'm all in. Let's kick his ass. And that's what we're going to do with your help. We are going to kick his ass and Ann Richards the shit out of this thing." (MJ Hegar, Remarks At A San Antonio Meet & Greet, 2/19/20)
Hegar, On Her Elizabeth Warren Endorsement In May 2020: "Look Out Washington – We're About To Get Shit Done."(MJ Hegar, Twitter, 5/19/20)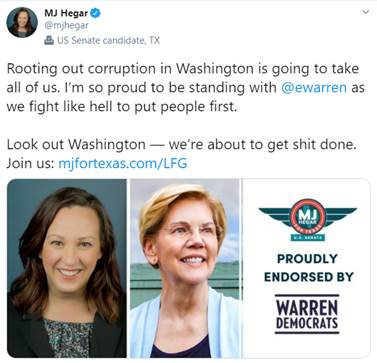 Hegar In July 2020: "We'll Take Kicking His Ass In November." HEGAR: "So we'll take kicking his ass in November." (MSNBC's "The Last Word," 7/22/20)
Hegar, On Team Cornyn's Highlighting Of Her Foul Language. (MJ Hegar, Twitter, 10/22/20)