Texas Latinos Endorse Senator John Cornyn for Reelection
Texas Latinos Endorse Senator John Cornyn for Reelection
AUSTIN – In recent years, the Lone Star State has experienced exponential growth, especially when it comes to our state's Hispanic community. Latinos make up nearly 40 percent of Texas' population and are a dynamic and critical voting block for statewide candidates. Today's endorsements, therefore, are an impactful testament to the leadership and support Senator John Cornyn has in his campaign for reelection.
"Senator Cornyn won the Hispanic vote in his last election because he delivers on his promises. He is a steady hand and puts Texans first in every decision he makes," said Mano DeAyala, Board President of Hispanic Republicans of Texas. "In these challenging times, Senator Cornyn is fighting to bring critical relief home to those who need it most. As we look to reopen and rebuild our economy, he is who we trust to continue Texas' pro-business, job-building environment."
"Throughout his distinguished career in public service, Sen. Cornyn has ensured that all Texans have a voice in their government. From health care to jobs and the economy to immigration, Sen. Cornyn has proven himself ready to champion nonpartisan solutions to our country's biggest problems," said Daniel Garza, LIBRE Action Senior Advisor [full endorsement press release here].
"As a border state, the Hispanic community across Texas remains focused on fixing our broken immigration system and finding a compassionate solution for Dreamers. While party politics have certainly made it harder to find common ground on this important issue, Sen. Cornyn has stayed above the fray, calling for certainty for Dreamers while working to enhance border security," he continued.
"Celebrating our diversity is just as important as celebrating what ties us together. For our organization, that's: God, Family, and Country," said Carmen Crenshaw, chairwoman of the Texas chapter of the Republican National Hispanic Assembly. "Senator Cornyn stands strong in his commitment to these three pillars. He is a man of faith, who ardently protects the sanctity of life and defends those most vulnerable in our society; and is a leader that Texans can trust to serve with integrity, compassion and an unwavering commitment to uphold our Constitution."
"I'm happy to support John Cornyn's reelection to the U.S. Senate. In all his years in the Senate, Senator Cornyn has been a steadfast advocate for Americans of Hispanic origin and for the fundamental values they cherish," said Alfonso Aguilar, President — Latino Partnership for Conservative Principles. "He has worked hard to expand economic opportunities for all Latinos and has been a champion for the right to life and religious freedom. Moreover, as a constitutional conservative, he has supported judicial nominees who are textualists and will not seek to legislate from the bench. Texas and America need his continued leadership in the Senate."
According to the U.S. Census Bureau, more than a third of Texans speak Spanish. The senator's campaign recently released a Spanish-language ad running statewide and also hosts its website in Spanish.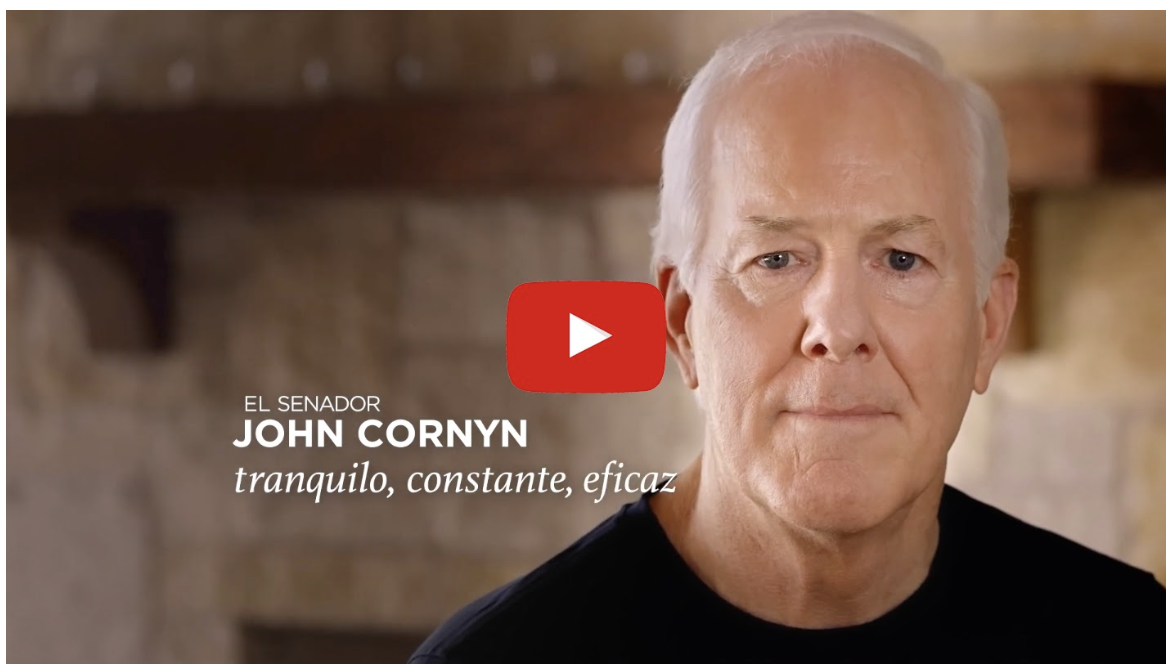 NOTE: Texans for Senator Cornyn is pleased to provide a bilingual spokesperson and surrogates available for interviews with your outlet. Please contact Krista Piferrer ([email protected]) to coordinate.
###